Team: Huntress EDR
Product: Huntress Dashboard
Environment: Huntress Dashboard
Summary: The Huntress Dashboard gives you granular control with the ability to organize and group your organizations and agents to manage your tenants.
Whether you're an MSP managing dozens of clients or an Enterprise overseeing worldwide subsidiaries, you'll likely need granular access control. Within your Huntress Account, you can create an unlimited number of Organizations to easily manage multi-tenant environments.

Huntress Account
At the top of the Huntress pyramid is an Account (which shouldn't be confused with a Huntress User). Accounts belong to our direct customers and provide them a high level management interface to oversee their Huntress Agents. Accounts will always have at least one Organization, where one is automatically created for you during the Account sign-up process. At the Account level, you can create Account users and integrations which apply to all Organizations.
For more information on how to add users to your Huntress Account, please follow the information here: Managing Huntress Users
Huntress Organizations
In the simplest of terms, Organizations contain Huntress Agents. For MSPs, Organizations are usually named after the clients they support. As demonstrated in the graphic above, FooBar IT deployed agents to Wibble Bank and assigned them to the Wibble Bank Huntress Organization. Any Account user will be able to access the data within the Wibble Bank Organization. At FooBar IT's discretion, they can also invite Wibble Bank employees into the Huntress Dashboard by adding them directly to the Wibble Bank Organization. As an Organization user, you'll be able to view all incident reports, investigations, agents, and metrics relevant to that Organization. However, Wibble Bank employees will not be able to view the data within the Wobble M.D. or Wubble Law Organizations (unless explicitly added to each Organization).
For more information on how to add users to your Huntress Organizations, please follow the information here: Managing Huntress Users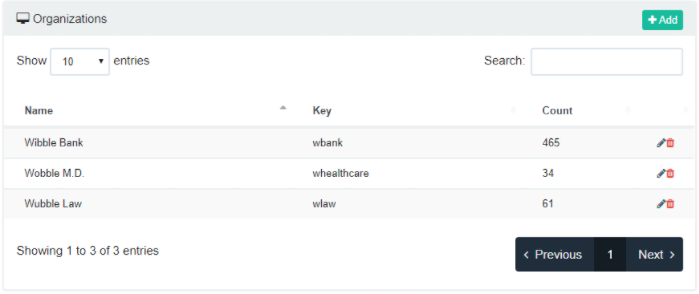 Agent Tags
We've received a fair amount of feedback from our partners requesting the ability to freely group Huntress Agents within an Organization. Our Team also sees the value so we've provided a way to add simple, descriptive words or phrases to each installed agent. We call these Agent Tags and they can be added during installation (manually or via a deployment script) or after installation (within the Huntress Web Interface). With that said, we're still exploring the best way to implement the user experience for this feature:
A list of tags that renders a list of hosts?
A universal search bar?
How about automatic tagging (such as OS version, architecture, etc.)?
Regardless of the final implementation, you can start tagging immediately. As soon as our solution is live, you'll be able to enjoy it without lifting a finger :)