Team: Huntress SAT
Product: Microsoft Office 365
Environment: SAT, Microsoft Office 365
Summary: Allowlist SAT email in Microsoft 365 Defender

This article will cover how to Allowlist SAT's training email and phishing simulator email servers in Microsoft 365 Defender.
Step 1. Basic Allowed List
Sign in to Microsoft 365 Defender portal
Scroll down and select Email & Collaboration
Select Policies & rules
Select Threat policies in the list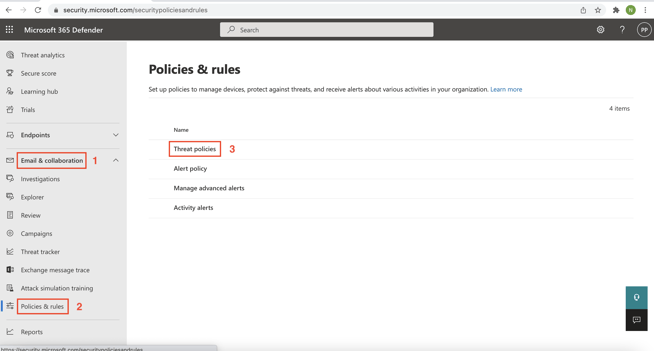 4. Under
Policies
, Select
Anti-spam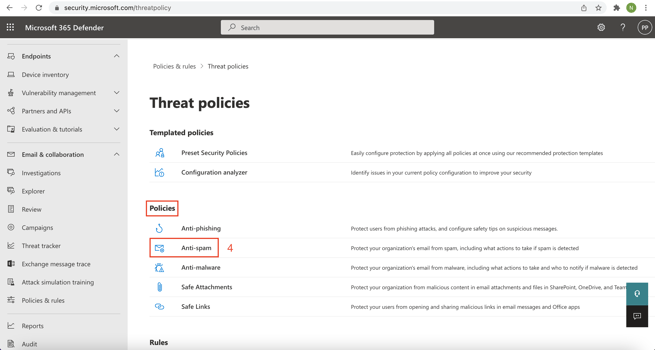 5. Select Anti-spam inbound policy (Default)
6. Scroll down to Allowed And Blocked Senders and domains to Select Edit allowed and blocked senders and domains in the fly-out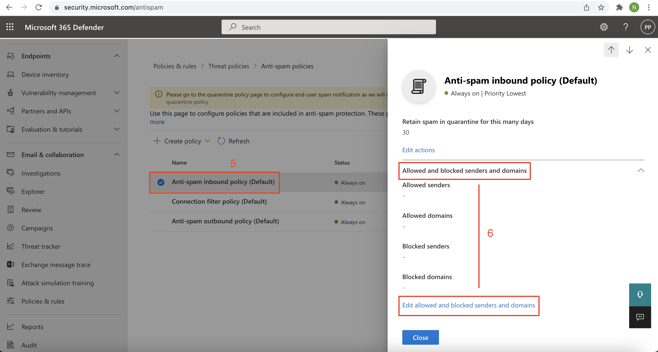 7. In the fly-out under Allowed, select Allowed domains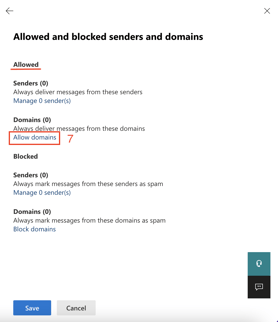 8. Click the Add Domains + button to add the following domains one at a time and press Enter/Return to add them to the list.
9. When finished select the Add domains button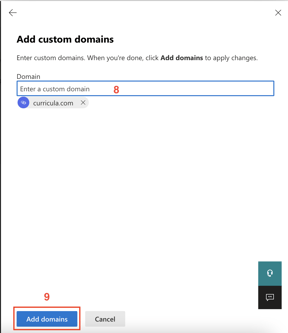 10. Select Done
11. Click Save
You have now completed the Basic Allowlisting of Security Awareness Training email and notifications. To Allow our Phishing Simulation Servers and Domains follow Step 2 below to bypass Microsofts Advanced Filtering that is not bypassed in Step 1. This includes :
Content Filtering
High confidence spam
High-confidence phishing email
Step 2. Advanced Phishing Simulator Allowlist
Sign in to Microsoft 365 Defender portal
Scroll down and select Email & Collaboration
Select Policies & Rules
Select Threat policies in the list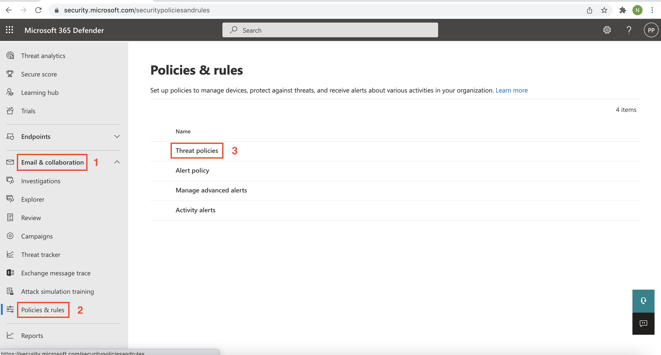 4. Scroll down to the Rules section and select Advanced delivery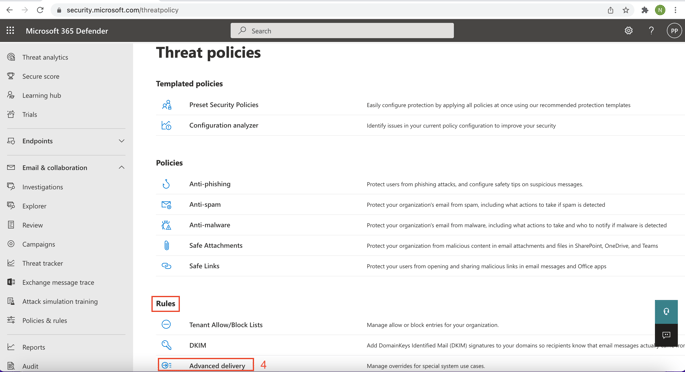 5. Select the Phishing Simulation tab and then select Edit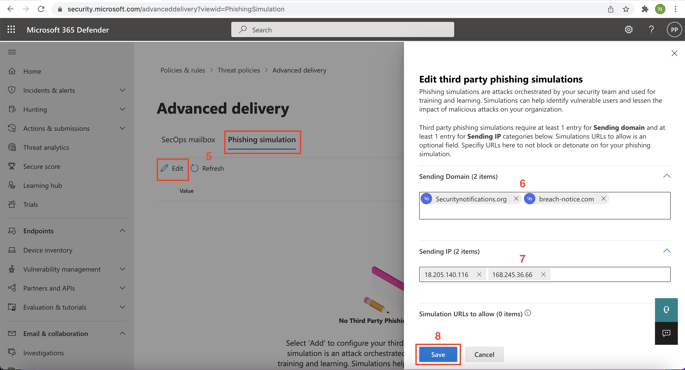 6.
Under
Sending Domain
add the following SAT Domains and Phishing Domains (one at a time then press Enter/Return to confirm the domain).
Currently,
Microsoft only allows for 20 domains to be added
. Make sure to include the Default Notification domains and adjust the rest of the list as necessary to better suit your target audience.
Default Notifications:
Defaults in phishing scenarios:
Below is a list of domains that you can pick and choose from when building out customized phishing campaigns. Please select up to 2 of the following domains that are best suited for your company, business needs, or target audience.
7. Under
Sending IP
add the following SAT IPs
18.205.140.116 (Phishing Server)
168.245.36.66 (Training Server)
8. When finished select Save.
PowerShell
If you are familiar with using PowerShell in the Microsoft Office 365 environment the following PS command can be run in place of manually setting up Defender for the phishing simulated email :
Connect-ExchangeOnline -UserPrincipalName "admin@YOURDOMAIN.com";
New-PhishSimOverrideRule -Name PhishSimOverrideRule -Policy PhishSimOverridePolicy -Domains phish.mycurricula.com -SenderIpRanges 18.205.140.116,168.245.36.66;
New-TenantAllowBlockListItems -Allow -ListType Url -ListSubType AdvancedDelivery -Entries "mycurricula.com/*","emailtransaction.com/*" -NoExpiration
What does this shell accomplish?
Adds the sending IPs 18.205.140.116 and 168.245.36.66
Adds the sending smtp domain found in all message headers: phish[.]mycurricula[.]com
Adds the links I've identified for user tracking so they won't be detonated or scanned resulting in

false clicks:

mycurricula.com/* and emailtransaction.com/*
How do you connect to Microsoft 365 with PowerShell?
https://learn.microsoft.com/en-us/microsoft-365/enterprise/connect-to-microsoft-365-powershell?view=o365-worldwide
Now that you are finished with your allowed listing for your Microsoft 365 account, we recommend a Delivery test via Settings > Phishing > Deliverability test in SAT. Then send an assignment notification and/or phishing campaign to yourself or a small group of employees to verify the allowed listing was successful before launching SAT to your staff.
*If you have any messages that get placed in the user's junk email folders, add all SAT Phishing domains to the allowed list described in Step 1.
If these steps don't resolve the issue, let us know by submitting a ticket to our support team.