The Managed Microsoft Defender Antivirus feature utilizes the Microsoft Defender Antivirus that is built into Windows 10+ (and Server 2016+) and does not require additional licensing. Microsoft Defender is consistently ranked as a top product for protection, performance, and security by AV-Test. Additionally, cybersecurity experts like Tavis Ormandy (Google Project Zero), Robert O'Callahan (Ex-Mozilla Engineer), Justin Schuh (Google Chrome Team, Former NSA/CIA), and a poll of 3,500+ individuals continue to highlight how the Non-ATP Defender produces solid results while introducing minimal additional attack surface, unlike many 3rd party antivirus products.
Huntress does not charge extra for Managed Antivirus.
---
In this article
3FAQ
If Huntress is showing "Defender Disabled," please see: Enabling Microsoft Defender (using Powershell) and Troubleshooting: Removing Previous 3rd party AV
Supported Operating Systems
Please see Supported Operating Systems / System Requirements for full list of supported OSes.
Important: Any machine that is joined to an Active Directory Domain that is unable to communicate with a domain controller will be unable to set local policies and therefore will be unable to use the Managed AV policy until communication is restored.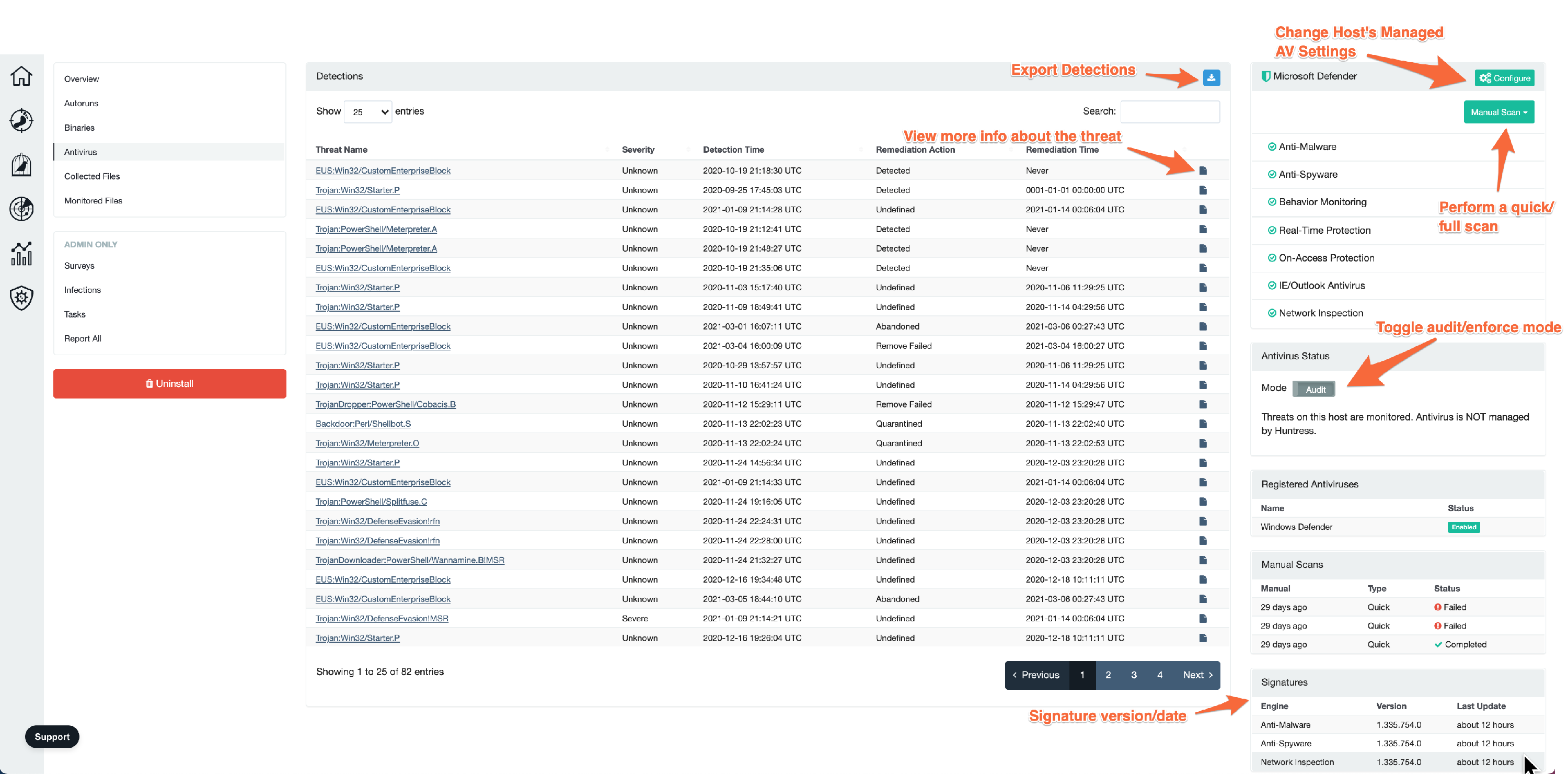 (click to enlarge)
Antivirus Products

Security Center Status
Service Status
Alerting and Detections
All Defender Detections can be seen on the Managed AV Dashboard by clicking 'view all detections' in your Dashboard." The Huntress ThreatOps Team will send off an Incident Report for any High Severity Defender detections that aren't successfully remediated by Defender.
---
FAQ/Known Issues
Please see Managed Antivirus - FAQ/Known issues for our FAQ/Changelog/known issues.