Team: Huntress SAT
Product: Account phishing settings
Summary: SAT's Report Phishing feature allows GSuite users to utilize a company email address, such as phishing@yourdomain.com, to internally monitor all emails reported by your learners.
Report Phishing Internally using Gsuite Groups
If you do not already have one, create a company mailbox to receive suspected phishing reports internally, such as phishing@yourcompany.com
Open your GSuite Email Admin Console and navigate to 'Groups'
Add a new Group and title it something relevant and easy to remember, such as 'Phishing'
Within this Group's Settings, select 'Allow members outside your organization'
Once enabled, add report@phish.mycurricula.com as a new member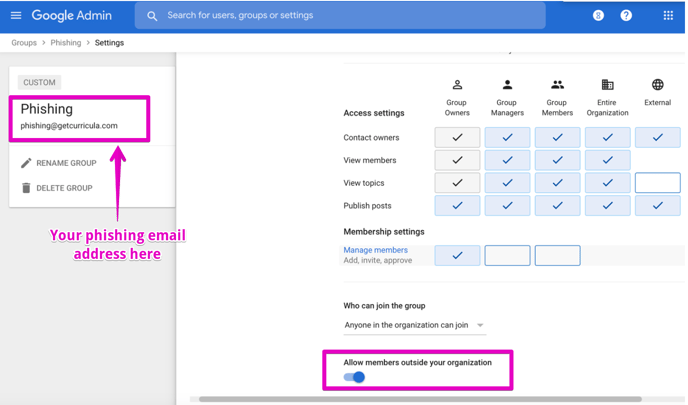 After you've setup your Group and added report@phish.mycurricula.com, configure SAT to notify you when a new report has been made.
Add phishing@yourcompany.com to SAT
Login to your SAT Admin and click 'Settings' in the top navigation bar
Under 'Settings' then navigate to the 'Phishing' tab



Scroll down to the 'Report Phishing Service' section and enter your internal phishing email address.
Click 'Update' to complete the process.


Keep in mind learners will still be able to report SAT phishing emails directly to SAT by forwarding DeeDee's attempts to report@phish.mycurricula.com.
To learn more about SAT Report Phishing service and how to utilize it if you are not a Gsuite user, visit our Report Phishing article!