Team: Huntress SAT
Product: Account settings
Summary: Training recovery reminders
SAT recommends enabling Recovery Training when creating and launching phishing campaigns so that Learners will be required to complete a refresher module after falling for a phishing test.
If Learners do not complete this module immediately after a failed test, automated Phishing Recovery notifications can be sent directly to their inboxes for up to five days reminding them to complete their training.
How to Schedule and Customize Recovery Training Reminders
HSAT Platform Managers can schedule and customize reminder notifications for phishing Recovery Training from the Admin Panel.
From the mycurricula.com admin platform, navigate to the Admin Settings by clicking 'Settings' in the top navigation bar and select 'Account' from the vertical menu.
Next, click the 'Phishing' option to find your account's phishing settings. Then navigate to the 'Recovery Reminders' section.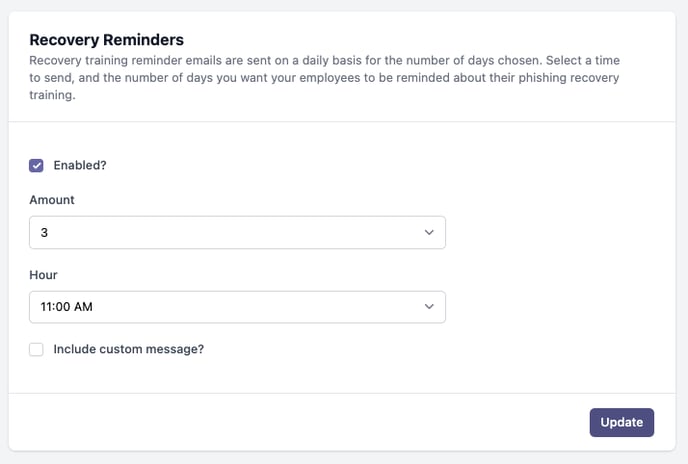 From here, SAT enable and set the number of days after a failed phishing test that Learners will receive reminders to complete Recovery Training, as well as the time of day these automates reminders will go out. Use the 'Amount' dropdown to select up to how many days after a failed test Learners will receive reminder notifications to complete Recovery Training.
(If Learners do not complete Recovery Training after receiving these reminders, they will be required to do so upon logging in to complete regularly scheduled training.)
You can also include a custom message in these notifications by checking the 'Include custom message' box and typing your message into the box below. This custom message will appear in every Recovery Training reminder your Learners will receive.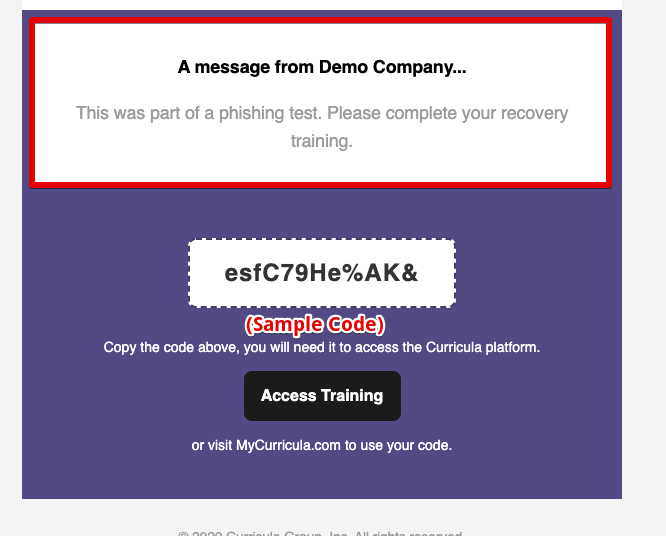 Learners will use the log in instructions provided to access the HSAT platform and complete their Recovery Training.