Team: Huntress SAT
Environment: Sign in portal
Summary: Admins can use the Forgot your Password? option to reset Security Awareness Training (SAT) portal passwords. Learners are not required to use passwords to access the portal. If there's no admins available to help, reach out to Huntress support. 
If you need assistance recovering lost, forgotten, or disabled account information, this article will address what to do to recover login credentials for either yourself, your learners, or your company account.   
Admins
If you access the Security Awareness Training via the Huntress portal, you will not have a separate log in. Your account is your Huntress account.
Each admin needs an email address and a unique password to access the Huntress SAT admin dashboard. After admins are added to the platform, they receive an automated welcome email including a link to create a password for future access. If you're an admin and have lost or forgotten your password, you can go to the admin login page to initiate a password reset.  
If you have forgotten or lost your admin password, follow these steps to reset it:  
Go to mycurricula.com and click on the Admin Login button at the bottom of the screen. Select the Forgot your password? option below the Login button 




On the next page, enter your email address and click Reset Password



Go to your inbox and select the Curricula: Password Reset email from notifications@mycurricula.com and click on the Reset Password button (Please note this link expires one hour after you initiate a password reset.)




You'll be redirected to a page where you will create your new password. Input your new password twice, then select 'Reset Password'.



The system will log you into the admin platform after you complete the password reset process.  
Learners
Huntress SAT platform does not require learners to create their own passwords to access security awareness training, which keeps it easy to manage your company's access to the Huntress SAT platform.   
If your organization is using our Access Code authentication method, all learners in a particular group share a common code to access training. To login to SAT platform, simply copy the code included in every training notification email you receive and enter it on the login screen at mycurricula.com with your correct login email address.  
If you are a learner and you do not have or cannot find your group access code, contact your program admins for assistance. Our support team, if they receive a request for a lost or forgotten access code, will need approval from your program admins in order to share any information. Without your team's written approval, login information cannot be shared.  
If you are a program admin and you receive a request for a group access code, log into the SAT platform admin portal and select the Settings tab at the top of the screen followed by Learners from the left side of the screen. Scroll down to the Groups section and click 'Edit' for the group whose access code you need to share. The group's settings page will open.






From the group's settings page, select the Access tab and scroll to the Access Code section at the bottom of the screen. Click 'Copy to clipboard' and send the code to the learner.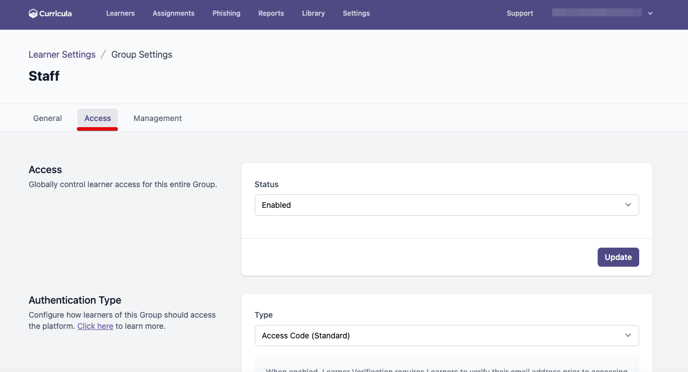 Once the learner receives the access code they will be able to go to mycurricula.com and login to start their training.   
How to recover company login credentials if your admins are no longer with the company


For security purposes, if your company needs assistance recovering admin login credentials to the Huntress SAT platform, a company officer who holds
signing authority
must submit and confirm the request to our Huntress support team.  Our team will provide instructions for recovering login credentials after receiving and confirming the request.